'First' riot-related Asbo issued in Manchester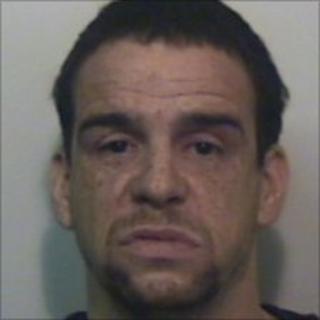 A man who fought with a police officer during riots in Manchester is believed to be the first person in the UK to receive an Asbo following the unrest.
Jason Ulett, aged 38, from Ardwick, Manchester, has been banned from entering the city centre.
He also served five weeks of a 10-week prison sentence after pleading guilty to a public order offence on 10 August, the day after the riots.
Ministry of Justice records indicate he is the first rioter to get an Asbo.
Manchester City Council applied for the Asbo, which was granted in Ulett's absence at Manchester City Magistrates' Court.
'Strong message'
Ulett, of Woodward Court, was among a large group of people who had gathered outside the looted Sainsbury's store on Oxford Road during the riots on 9 August, when he became involved in a struggle with a police officer.
The Asbo also bans Ulett from remaining in any shop if he is asked to leave by the staff and from using abusive, threatening and intimidating language towards anyone.
Breaking conditions of the order could result in Ulett being sent back to jail.
Councillor Paul Andrews, Manchester City Council's executive member for neighbourhood services, said: "We have already seen a strong reaction to the riots by Manchester residents, Greater Manchester Police and the courts which issued tough sentences against those responsible.
"This order - the first of its kind in the UK - continues to send out the strong message that we will not let a small group of thugs try to ruin our city centre.
"Manchester residents and businesses should take comfort from this order and I urge anyone who spots Ulett breaching his order to contact the police immediately."
Assistant Chief Constable Ian Hopkins said: "This case offers a timely reminder ahead of this weekend's Trade Union Congress (TUC), where we are expecting large numbers of people to peacefully protest on the streets of Manchester, that anyone who wishes to cause trouble or incite disorder will be met by the full force of the law."