Salford pub shooting of Lee Erdman, £50,000 reward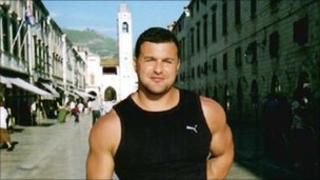 A reward of £50,000 is being offered to anyone who can help convict the gunman who shot and killed a 37-year-old man in a Salford pub.
Five men have been arrested and bailed over the shooting of Lee Erdman at The Wellington on Regent Road on 10 September.
Greater Manchester Police believe the killing followed an altercation in the pub some time before 03:00 BST.
Police believe Mr Erdman was shot in the chest as he stood at the bar.
A GMP spokesman said it was understood the gunman calmly walked up to Mr Erdman, shot him and left.
Mr Erdman was taken to Salford Royal Hospital but died shortly afterwards.
'Life-changing amount'
Officers have interviewed hundreds of people, many of whom were in the pub at the time of the shooting, but they believe many more witnesses have yet to come forward.
Det Ch Insp Jon Chadwick said: "This was the brutal and targeted murder of an unarmed, defenceless man, who was simply enjoying a drink at the pub.
"The gunman didn't say anything to Lee - it was simply cold-blooded.
"We know without a doubt that there are still people out there who know the truth but haven't come forward.
"We believe there were a number of people in The Wellington that we have not yet spoken to - some of them may have seen a man shot dead before their eyes.
"If you come forward we will protect you. There are a range of measures we can take that can ensure you can give evidence safely.
"I'm hoping the reward of £50,000 for your bravery will help you do the right thing and come forward. It is very unusual to offer such a large sum, but we understand people are worried about their safety when speaking to the police.
"It is life-changing amount of money that could have a massive impact on someone's quality of life."