Graham Nash given University of Salford honorary degree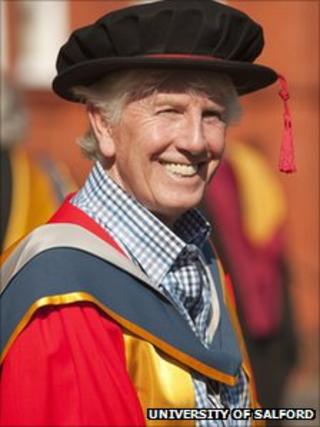 Musician Graham Nash has said he is proud to be from Salford after being given a honorary degree by its university.
The former Hollies and Crosby, Stills and Nash singer was born in Blackpool, but spent his childhood and teenage years in Salford in the 1940s and 50s.
On being awarded a doctorate in music from the city's university, he said he was "pleased to be a son of Salford".
Nash studied engineering at a night school at the institution in the 1960s.
The singer said that to "come back all these years later to the same building and go through the same door, it's thrilling for me".
"I didn't get into music for awards, but I am truly grateful to be here."
He said that modern Salford was different to the one he remembered from his childhood, but that he was glad to have lived in the city.
"Salford was one of the biggest slums in England at the time, but we didn't know that," he said.
"I didn't know I was poor. We had a ball to kick around, so what more did we need?
"Salford was an incredible place to grow up and I'm really pleased to be a son of Salford."
The University of Salford's vice-chancellor, Professor Martin Hall, said Nash had been chosen for the honour because of his "outstanding contribution to the world of music through a career spanning six decades".
"The university is proud to confer the highest honours it can on such a distinguished Salfordian," he said.
The singer picked up his degree in an afternoon ceremony, ahead of a show with Crosby, Stills and Nash bandmate David Crosby at neighbouring Manchester's Bridgewater Hall.
He is also holding an exhibition of his rarely-seen personal photography at the city's Richard Goodall Gallery until 12 November.