Atherton cemetery worker Eric Hicks beaten at gates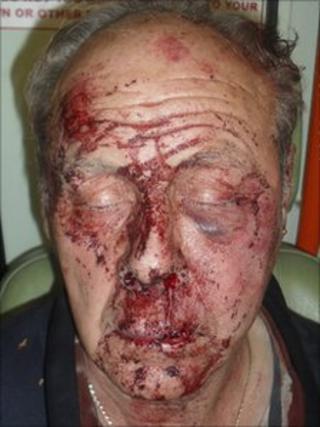 A 73-year-old Wigan cemetery worker has been "viciously" attacked as he prepared to lock the graveyard gates on the night of his golden wedding.
Eric Hicks' family urged detectives to release pictures of his injuries in the hope it would help find his attacker.
The volunteer worker had been due to celebrate his 50th anniversary with his wife, when he was beaten to the ground.
The attack happened at Atherton Cemetery on Leigh Road at 20:15 BST on Friday.
The attacker, who stole Mr Hicks' phone, cash, car keys and torch, threatened to stab him in the ordeal.
He is being treated in hospital where he underwent emergency surgery for a fractured cheekbone, a serious cut on his lip and swelling and grazes on his face and head.
The robber was described as a white man, aged in his 20s, 6ft tall who was wearing a grey tracksuit.
'Community appalled'
Det Ch Insp Howard Millington said: "This was a vicious attack and the level of violence used to take a few items of little financial value was wholly unnecessary.
"The victim is one of the older members of our community who does a valuable job by looking after the place we bury our loved ones and, as such, should face nothing but praise and respect.
"I find it particularly disgusting that a thug would show such little regard for this man or the surroundings.
"No doubt the community will be equally appalled and I'd ask for their help because together we can make sure the person responsible is caught and faces justice.
"We are determined to do this."