'Cuts are not the cure' says March for the Alternative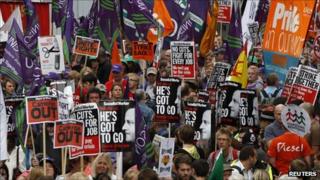 They came in their thousands to deliver a message to the Conservative Party: "Cuts are not the cure".
Some 35,000 people descended on Manchester to take part in the TUC's March for the Alternative, as the Conservatives gathered for their conference in the city.
Banners from Portsmouth, Wolverhampton, London and Bristol were carried alongside those from Manchester, Lancashire, Cheshire and Merseyside.
Some were from unions - Unison, Unite, GMB, UCATT, the NUT, the Bakers Food and Allied Workers Union to name a few - but others were ordinary people just wanting to have their voice heard.
'We are worried'
Lana Flaherty, 45, and her partner Tony Evans, 45, from Swinton in Greater Manchester, took their seven-week-old baby Maxi to his first protest.
"We are worried about the baby's future," Ms Flaherty said. "We're worried about what's happening to the health service, education - everything the government's doing really."
"People need to get off their backsides and take part in protests or goodness knows what will happen.
"You can't sit at home and complain - you have to do something."
Babies in prams, toddlers, schoolchildren, parents, and grandparents all came together with one voice - that there was an alternative to the cuts, and that the government should spend its way out of the current economic difficulties.
Among the youngsters were Joanne Kenney, 11, Daisy Bulman, 11, Maddy Willis, 11 and Helen Kenney, 14, from Chorlton in Manchester.
"The Tories are ruining our future," Maddy said. "They are making university really expensive and cutting jobs."
BAE workers
"We felt it was important to take part to show what we think," added Joanne.
Chanting and whistling, they made their way through the city centre with banners, flags and huge balloons filling the sky above them.
Hundreds of police officers kept a close eye on the carnival-esque atmosphere, supported by the force helicopter over head.
Among the many thousands of workers were 200 from BAE Systems in Lancashire.
The defence giant announced last week it planned to shed 3,000 jobs, including hundreds in Lancashire.
Phil Entwistle, 47, a convener for Unite, took his daughter Lauren, 20, to the protest.
"We want to show the government we are not going to sit back and allow it to happen," he said.
"There are 3,000 of us, plus another 18,000 in the supply chain - that is 21,000 people who could lose their jobs.
"We are here to fight for our colleagues and the local economy."
'Coffin by our desks'
Margaret Wilson and Kathy Smith, both social workers in Liverpool, have been on all the union marches against the cuts.
Ms Wilson, 53, said: "I have worked for the council for 35 years. The goal posts are continually changing.
"The standing joke is that there will be a coffin at the side of our desks. We will have to work until we drop."
Her colleague added: "We are having to work longer, pay more and end up getting less."
Towards the end of the march, Manchester Central - decked with Conservative Party slogans including "Leadership for better future" - came into view of the protesters.
The chanting became more vocal, the whistling more forceful and the thumping of a drum even louder.
"Hands off our pensions", they shouted as they walked past, before making their way to a rally with union leaders at Number One First Street.
'Telling the truth'
Addressing the Conservative party conference William Hague said: "The money you were promised by the last Labour government never existed, it was never there, and we have been left with the task of telling you the truth.
"A government betrays instead of serving its people if it allows them to live on a delusion and that we will not do.
"And it is wrong, unfair and irresponsible to leave a massive debt for the next generation to deal with instead of facing up to it now."
Stern words from the foreign secretary, but words which are unlikely to satisfy the thousands campaigning for an alternative.