Manchester's early years care to be cut by £22.1m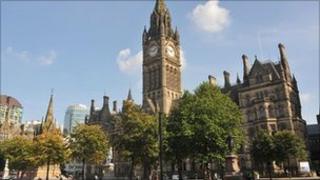 Visits to family homes will replace care at Manchester children's centres if council cuts are approved.
Replacing Sure Start centres with an outreach service which aims to visit every child under three is part of the new proposals by the city council.
The cost-cutting measure, which makes up almost half of a proposed £22.1m cut to the council's early years provision, has been piloted in the Ardwick area.
The city council has opened a public consultation on the proposals.
In January, the council announced that children's services - the department which oversees early years provision - would be cut by £45.1m in the next financial year, but said that social workers for vulnerable children would be increased.
It was expected that the cuts would include the transfer of early years provision to what the council has called "external partners".
However, the council said it would still provide 15 hours of free day care per week for all three and four-year-olds.
The council said that Sure Start centres were currently used by less than a third of families with young children and that the Ardwick pilot had made contact with more than 80% of similar families.
If approved, the changes would come into gradual effect over the next four years and see council spending on the early years provision at the centres drop from £12.3m to £500,000 per year.
However, the council said that children's centre buildings would be kept open, but that their usage would be changed to offer a much wider range of services to people of all ages.
Other changes include the staff training and quality assurance budget being almost halved, dropping from £1.5m to £800,000.
Councillor Afzal Khan, executive member for children's services, said the council had "much less money to spend and need to ensure that we target it most effectively, focusing on those who need support the most".
"Changes have to be made but the new proposals, if agreed, will be introduced gradually over the next four years."
The consultation period on the council's proposals runs for three months.