Hyde Asda workers in £6.8m lottery win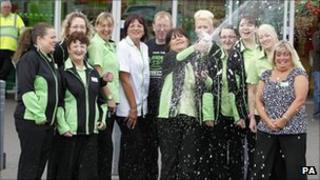 A syndicate of 16 supermarket workers from Greater Manchester has won almost £7m on the National Lottery
The staff at Asda in Greenfield Street, Hyde will share £6,873,588 after scooping the jackpot in last Saturday's roll-over Lotto draw.
Each of the group, formed in January 2010, will collect more than £430,000.
Syndicate leader Debra Wilson said members planned to spend the winnings on holidays, new cars, and houses. One will be paying for IVF treatment.
Ms Wilson said: "We have had a few wins so far and had won about £300 this year, which is great, but this is unbelievable."
'Happy ending'
She said she planned to buy a new car, go to Las Vegas and help her daughter.
Emma Allen, 32, who works in the Asda Extra department, said the win would allow her to pay for IVF treatment after two unsuccessful attempts on the NHS.
She said: "This money means I can carry on with the IVF and have unlimited treatments.
"It will give me the family I have dreamed of.
"It's a happy ending."
One syndicate member, who chose not to have publicity, is planning breast enhancement surgery.
'Great buzz'
Another member, Angela Truter, 52, a service manager, said she planned to have a second honeymoon in Mauritius.
She said other colleagues and customers had been pleased the group had the winning ticket - which was bought in the store.
Shop manager Stuart Davey said: "We are all absolutely delighted.
"It's great to get some good news these days and they are all fabulous colleagues.
"The news spread so quickly around the store on Monday. It created a great buzz around the store and it was fantastic for morale.
"I hope none of them resign because they are wonderful colleagues but we don't know at this stage what decisions people are going to make."