Man Utd's Tom Cleverley accepts libel payout from The Sun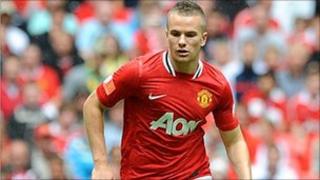 A Manchester United player has accepted libel damages after a newspaper falsely claimed he "badgered" a girl for sex.
The Sun claimed in August that Tom Cleverley, 22, had met a girl in a Blackpool nightclub and in the days after repeatedly asked her for sex.
The High Court heard that it was not actually the midfielder who had met and contacted the girl, but a man from West Yorkshire who was impersonating him.
Mr Cleverley was offered "substantial" damages by News Group Newspapers.
The story was said to have left the footballer "extremely upset and embarrassed".
The court heard that a man from Shipley had pretended to be the footballer and, after meeting the girl, sent repeated text messages asking her for sex.
'Practising deception'
The man was then alleged to have taken her to a bed and breakfast, where he introduced her to his bodyguard and did a Google search on his name to demonstrate that he was a famous footballer.
The newspaper falsely claimed that Mr Cleverley, not the impersonator, had then "repeatedly badgered her for sex despite her saying no".
David Price QC said the truth was that Mr Cleverley had never met the girl involved and was at home with his girlfriend in Manchester at the time of the alleged incident.
He added: "It transpires that, entirely unknown to the girl involved, an individual from Shipley who resembles Mr Cleverley was impersonating him, while another individual from the same town pretended to be his bodyguard.
"[Mr Cleverley] does not know them and had no knowledge that they were practising such deception."
Mr Price told the judge that News Group Newspapers had agreed to publish an apology and pay substantial damages and costs to Mr Cleverley, who was not in court.