Chris Evans' greyhound finds new Cheshire home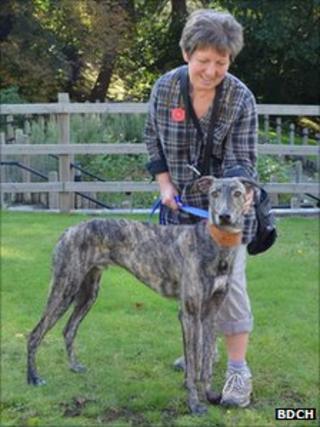 A greyhound that stole the heart of BBC Radio 2's Chris Evans has been given a new home in Cheshire after it failed to get on with the DJ's other dog.
Two-year-old Harrison was chosen by Mr Evans' family at Battersea Dogs & Cats Home's Old Windsor Centre in September.
But the greyhound could not fit in with the family, prompting the DJ to make an on-air appeal to find him a home.
Harrison's new owner, Moira Tydlesley, said she was "so grateful to Chris for bringing Harrison into my life".
Ms Tydlesley, whose own greyhound Veno had recently passed away, heard about Harrison on the Chris Evans Breakfast Show.
'Had to call'
She said that despite Harrison being a long way from her Cheshire home, she felt she had to try and give him a new place to live.
"I was devastated by the loss of my greyhound and as soon as I heard about Harrison I just had to call," she said.
"I went through Battersea's rehoming process and could offer Harrison just what he needed but had to make the long drive to Old Windsor to make sure he and my other two dogs got on.
"Thankfully, they all hit if off and I was able to take Harrison back with me that day.
"I'm so grateful to Chris Evans and Battersea for bringing Harrison into my life - he's a fantastic dog."
Battersea Old Windsor centre manager Kaye Mughal said that she was glad they had been "able to find Harrison a lovely new home".
"We're now busy searching for the perfect companion for Chris and his family," she said.