Manchester reception to say thank you after riots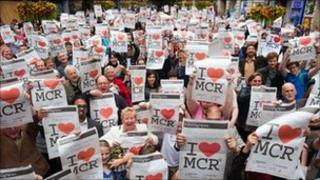 People who helped Manchester recover after the riots are to be invited to a civic reception.
Hundreds of Mancunians brought brushes and shovels into the city centre to help clean up the morning after trouble flared across the city on 9 August.
Manchester City Council said it also wanted to thank the emergency services and the many businesses which supported the "I Love MCR" campaign.
More than 200 people have been charged over riots in Manchester and Salford.
A venue has yet to be decided for the event, which is due to take place later this month.
Shops were ransacked, police officers attacked and cars torched in Manchester city centre on 9 August.
Shops looted
Trouble flared in Salford early in the evening before it spread to Manchester, with crowds of people - largely youths - gathered around Manchester's Piccadilly Gardens from late afternoon.
Miss Selfridge in Market Street was set alight and hundreds of shops were vandalised and looted throughout the night.
Other shops affected included the Bang and Olufsen store off King Street, Diesel in King Street, Tesco Express in Princess Street, Sainsbury's Local in Bridge Street, as well as several in Deansgate and Oxford Road.
Many city streets were cordoned off or were guarded by mounted officers, including Exchange Square, Market Street, St Ann's Square and Deansgate.
Councillor Pat Karney said the clean-up operation which followed "brought out the true face of Manchester."
He said: "We want to make sure that all those Mancunians that helped us out, whether they were police officers or fire officers, or members of the public who cleaned up the city, or shopkeepers who put their posters in the window, everyone who got Manchester working again, which was our main concern, we want to thank them.
"We have to remember there are over 120,000 jobs in the city centre, if Manchester wasn't cleaned up, if confidence wasn't restored, a lot of the jobs, of boys and girls who get up every day and play by the rules, their jobs would have been in jeopardy."