Drinking mum Kayleigh McNaughton left children in car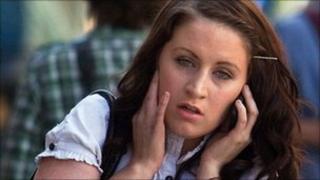 A woman from Greater Manchester has been given a four-month suspended jail sentence for leaving her children in a car while she went drinking.
Police found 21-year-old Kayleigh McNaughton's eight-month old baby and son, three, in the car in Rusholme at about 03:00 BST on 13 August, 2011.
Officers waited for 40 minutes until McNaughton, formerly of Glasgow, returned to the car.
She admitted to drinking, after initial denials, Manchester Crown Court heard.
At an earlier hearing, McNaughton pleaded guilty to two offences of child neglect.
As well as the suspended jail term, she was sentenced to 200 hours community service.
'Stressed out'
A member of the public had called police to the car in a side street off the busy Curry Mile area of south Manchester, the court heard.
Officers found the two boys inside the car which was dirty and smelled of wet nappies and vomit.
Sentencing McNaughton, Judge Anthony Gee QC told her: "You ought to be utterly ashamed the way you acted on that occasion.
"It is fortunate for them, and you, no actual physical harm did in fact befall either of them."
The children, who have different fathers, are now with foster parents.
The court was told that McNaughton had left her children in the car to go out drinking at the Saki Bar in Rusholme.
CCTV footage showed her entering the bar at 02.25 BST, dancing around tables, and leaving at 03.37 BST.
When arrested she told officers that she was "stressed out" because her baby had been crying all day.
Shirlie Duckworth, defending, said: "Kayleigh McNaughton cares deeply about her children, she cares deeply about how she let them down.
"She recognises how wrong her actions are.
"There is hope for reconciliation with the children, and in due course in rehabilitation for Miss McNaughton."
In a letter to the judge, McNaughton wrote: "I love and care for those children more than life itself."