Cyclist found dead in Bridgewater canal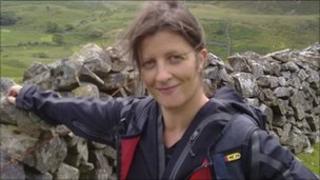 A 39-year-old woman who was found dead in the Bridgewater Canal had been cycling into Manchester from her Cheshire home, police have said.
Catherine Sharman, from Lymm, was found in the water near Trafford Road on 30 September. Her bike was found nearby.
Greater Manchester Police said her death was a "tragic accident" and asked anyone who may have seen her on the cycle path that day to come forward.
Detectives are now trying to help the coroner determine how she died.
They were alerted to the body by a passer-by just before 11:20 BST on the Friday morning.
Mrs Sharman's husband, Jamie, said she was happy and had a "real zest for life".
'Family distraught'
He said: "She enjoyed lots of outdoor activities like cycling and walking and she loved circuit training and fitness boot camps.
"Cath made everybody laugh and brought happiness to many people. She was very loved and will be greatly missed by everyone that knew her."
Det Insp Frank Morris said: "We do not believe that Catherine's death was down to anything other than a tragic accident.
"We would however appeal to anyone who may have come across her on the canal path. You may remember having to stand to one side to allow a cyclist to go past you.
"Catherine's family is obviously distraught and just wants to know what happened to her. It is our job to assist the coroner in helping them to gain some understanding about the full circumstances."