Two teenagers shot in leg in Ordsall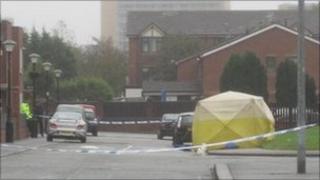 Two teenagers have been shot in the leg in what police believe was a targeted attack in Salford.
Police said a 17-year-old youth and an 18-year-old man were shot at on Tatton Road in Ordsall in the early hours.
Officers were called to the area at 04:25 BST and the two were taken to hospital, where they were being treated for non life-threatening injuries.
The surrounding area was cordoned off and police were making enquiries in the community to find out what happened.
Anyone with information is being urged to contact Greater Manchester Police.