Salford teenager shooting 'may be linked to pub murder'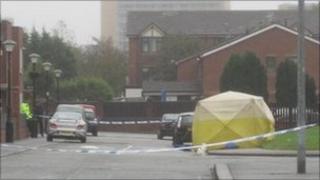 Detectives investigating the shooting of two teenagers in Salford are looking into whether the incident is connected to a murder at a nearby pub.
A 17-year-old boy and an 18-year-old man were shot in Tatton Street, Ordsall at about 04:25 BST on Sunday.
Lee Erdman, 37, was shot dead in The Wellington pub in Regent Road on 10 September.
A police spokesman confirmed officers were investigating whether the shootings were connected.
The two teenagers were taken to hospital for treatment for non life-threatening injuries.
It is believed Mr Erdman was standing at the bar in The Wellington, following an altercation, when a gunman walked up to him, shot him and left.
Five men have been arrested over his death. A £50,000 reward has been offered to anyone who helps convict the gunman.
Anyone with any information is asked to contact Greater Manchester Police or Crimestoppers.