Manchester Food and Drink Festival stall fire probed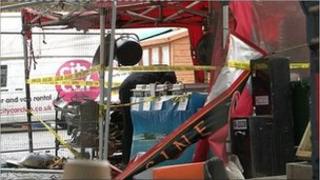 A fire at a stall at the Manchester Food and Drink Festival which injured three people is being investigated.
Fire crews attended the stall in Albert Square belonging to Cumbrian firm Chillikoko Cuisine at 20:46 BST on Monday.
Three people, aged between 20 and 30, suffered injuries to their arms and legs. One had facial burns.
Witnesses reported hearing a loud bang and seeing a man in flames.
'Explosion'
Celebrity chef Andrew Nutter, who was standing nearby, said he saw one of the victims run past him.
He said: "There was a flash, a bang and an explosion and then a man all in flames ran across Albert Square."
The incident happened at one of a number of street food stalls at the 10-day food and drink festival.
The victims' injuries were originally believed to have been caused by a gas cylinder exploding. It was later revealed that the explosion may have been caused by a gas leak that had ignited.
A Greater Manchester Fire Service spokesman said: "The investigation will look at whether there was a gas leak from one of the cylinders and whether the gas was then ignited by one of the cooking ranges.
"This was a licensed event where all the relevant health and safety guidelines will have been adhered to."
Albert Square was evacuated after the fire.
One of the victims was transferred to the burns unit at Wythenshawe Hospital.
Fire crews isolated three 20kg propane cylinders that were close to the fire scene and cooled them down.
Festival Director Phil Jones said: "We're opening as usual, we've been given the go-ahead and we're just asking everyone to come down as usual."