Manchester United boss Sir Alex Ferguson gets honorary degree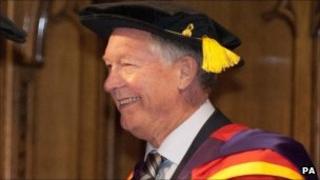 Manchester United manager Sir Alex Ferguson has received an honorary degree from the University of Manchester.
The 69-year-old became a Doctor of Letters in a ceremony at the university's Whitworth Hall.
The honour was in recognition of his contribution to the club, the city and its prominence on the world stage, the university said.
Sir Alex has been manager at Old Trafford for almost 25 years.
Under his leadership, the side has won more than 30 trophies.
Sir Alex said: "I think it's always nice to be appreciated and recognised, and getting this recognition is testimony to all the hard work that has gone on at Manchester United in the last 25 years, not just by me, but by everyone at the club.
"The great part for me is still to be out on the field with the players and coaching them.
"As the game has changed, I have had to change with it. For example, sports science in the last decade has seen a phenomenal improvement and that has become a major development in the game.
"But I just don't think about retirement any more. When you've been on the treadmill for so long, 25 years in my case, and my health is good at the moment, it's just a matter of looking forward to being the manager of Manchester United, rather than worrying about Alex Ferguson.
"I am enjoying it at the moment. We've got a good young team and a lot of youth at the club as well as some tremendous staff, so the future is good and I can keep enjoying it."
Among the others who were honoured were: Dame Lynne Brindley, chief executive officer of the British Library; composer Sir Peter Maxwell Davies, patron of the university's music society; Harpal Kumar, chief executive of Cancer Research UK; and Andrew Witty, chief executive of pharmaceutical company GlaxoSmithKline.