Bolton library closures are confirmed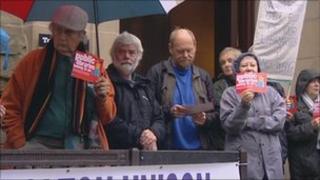 A third of Bolton's libraries are to be closed as part of ongoing budget savings, its council has confirmed.
The closures of Astley Bridge, Oxford Grove, Heaton, Highfield and Castle Hill libraries were outlined in July before a public consultation period.
It was announced that the closures would go ahead at a public meeting earlier, in spite of opposition from the Save Bolton Libraries (SBL) group.
SBL secretary Ian McHugh said it planned to seek a judicial review.
He added: "We would argue that there are major deficiencies in the consultations that have been carried out.
"Particularly in the last review, where the questions were extremely difficult for people to understand and there was no fourth option of 'no closures'.
'Community based'
"And secondly, we would argue that there are other sources of funding they could be using to keep these libraries open."
People who use the libraries have been told that alternative borrowing facilities will be organised.
Bolton Council leader Cliff Morris said: "We're losing five libraries but we're gaining five book drop-off points which will be more community-based.
"When you take into account we've not touched the children's library service, which is very important, I feel we had to do something."