Manchester Miss Selfridge riot arson store reopens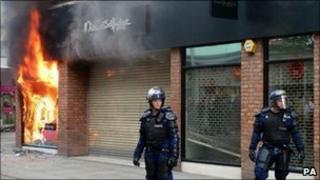 The Miss Selfridge store that was destroyed by arsonists during the Manchester riots on 9 August has reopened for business.
The store on Market Street was forced to close after damage totalling an estimated £400,000 was caused to the building.
The city council said the reopening was "a visible symbol" of Manchester's recovery.
Two men were arrested and released without charge over the arson.
A spokeswoman for Miss Selfridge said the company was "very happy" to be trading on Market Street again.
Councillor Pat Karney, Manchester City Council's city centre spokesman, said: "The reopening of Miss Selfridge is another visible symbol of how Manchester has quickly got back to business as usual after the events of 9 August and moved on.
"Confidence has returned to the city, footfall is right up and we can look forward to the impending Christmas season - the most important time of the year for our retailers - with enthusiasm."
Hundreds of shops in the city centre and Salford were damaged and looted by rioters including the Bang and Olufsen store off King Street, Diesel in King Street, Tesco Express in Princess Street, Sainsbury's Local in Bridge Street, as well as several in Deansgate and Oxford Road.