Lancashire County Cricket Club gets royal honour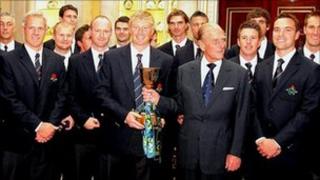 Lancashire County Cricket Club has been honoured in a ceremony at Buckingham Palace.
The county, which won its first outright Championship title since 1934 in September, was presented with the trophy by the Duke of Edinburgh.
Prince Philip, who is patron of the Lord's Taverners cricket charity, hosts the county champions each year.
The event, attended by 50 players and staff, followed a civic reception at Manchester Town Hall on Monday.
Fast bowler Sajid Mahmood said: "To get officially presented with the trophy down there will be something for us to remember.
"I met the Queen at Loughborough once when she came to open the National Cricket Centre.
"I was at the Academy at the time, so I got to meet her. It was really good. But to get to go to Buckingham Palace will be a fantastic day for the lads."