Litter left on streets of Wigan in clean-up campaign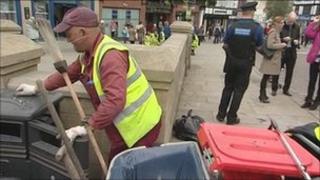 Litter was left to gather on the streets of Wigan over the weekend to show how dirty the town can become.
The council hoped by calling a halt to street cleaning from Saturday until Monday, residents would realise how much rubbish is dropped on the floor.
It said the stunt, to help launch Keep Britain Tidy's Love Where You Live campaign, should inspire people to clean up after themselves a bit more.
A team of volunteers are helping to clean up the town on Monday.
'Show more respect'
Fiona Ashurst, from Keep Britain Tidy, said she was disappointed by the rubbish she found on Monday morning.
"I'm looking around and I actually can't believe it," she said.
"There are bins everywhere and they are not even overflowing.
"People have just actually chucked the rubbish on the floor without even bothering to use a bin."
Street cleaner John Brown said: "We'd just like people to show a bit more respect for the town where they live. We take great pride in what we do as a team.
"It's very disheartening, because we do see this most mornings. We'd just like people to look after the town."
Wigan Council's Cabinet Member for the Environment Kevin Anderson added: "When it comes to litter, we all have a part to play and every individual really can make a difference.
"We can all help to make our neighbourhoods better places in which to live, work and play."