Stepping Hill Hospital: Seventeen patients poisoned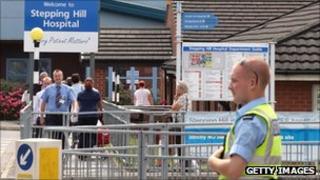 Seventeen people were poisoned by contaminated saline at Stepping Hill Hospital, police have said.
Three of those patients - Tracey Arden, Arnold Lancaster and Alfred Weaver - later died at the hospital in Stockport, Greater Manchester.
Police are investigating whether their deaths were caused as a result of being administered illegally with insulin.
A further nine cases relating to patients who did not die are still being investigated.
Earlier, police had reported they were investigating 16 incidences of poisoning at the hospital - but this figure was revised to 17 after a review by detectives.
Sixteen other cases have been ruled out of the inquiry.
Breathing problems
Officers were called to Stepping Hill on 12 July after an experienced nurse reported a higher than normal number of patients on a ward with "unexplained" low blood sugar levels.
The deaths of five patients were initially being investigated as part of the inquiry, but two of those were later ruled out.
Ms Arden, of Heaviley, who had multiple sclerosis, died on 7 July, and retired photographer Mr Lancaster, of Romiley, died on 11 July.
Mr Weaver, from Stockport, died on 21 July after suffering a hypoglycaemic episode on 11 July - a day after he was admitted from a care home with breathing problems.
All three received unlawfully administered insulin but it is not yet known whether it was a significant contributing factor to their deaths.
Charges dropped
Nurse Rebecca Leighton was held in custody for six weeks over the incident, but charges against her were later dropped.
The 27-year-old had faced seven charges of criminal damage with intent to endanger life and theft, but she was released without charge on 2 September.
She has been told she can return to nursing but remains suspended from work while an internal investigation is carried out.
Security remains tight at the hospital while police try to establish who tampered with the medicine.
No-one is allowed to administer intravenous drips alone and all keys to medicine cabinets have to be signed for.
Detectives have drafted in a criminal profiler in an attempt to help identify the poisoner.
A spokeswoman for Stepping Hill Hospital said: "We are aware of the number of cases currently being investigated and continue to work with the police to ensure that they can carry out their investigation as efficiently and effectively as possible."
She said it had been "a very difficult time for everyone" and the hospital continued to review security requirements.