Stepping Hill Hospital culprit 'may not be found'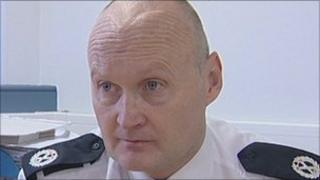 Police investigating the deaths of three patients at Stepping Hill have said it will be very difficult to charge anyone with their murder.
Three people died and another 14 were affected following contamination of saline drips at the Stockport hospital.
Assistant Chief Constable Terry Sweeney said it would be hard to link the deaths with the contaminated insulin.
"It may well be that we don't come to that outcome that we are looking for," the policeman said.
"But I can assure people that we will do everything we possibly can to make sure we do not miss the opportunities, because the victims who have been contaminated in this crime deserve that justice."
Mr Sweeney, who is in charge of the investigation, said the inquiry could take "months or even years" to conclude.
About 700 people have been interviewed as part of the investigation - the biggest in the city since the inquiry into the IRA bombing of 1996.
Mr Sweeney described the investigation as exceptionally difficult and complex but one they were determined to pursue.
Nurse arrest defended
He said: "When people are in hospital they have a variety of medical conditions.
"The difficulty is differentiating between what was the cause of the deaths or illnesses and then breaking that down to see if there is any connection with the contamination."
The three patients whose deaths police are investigating are Tracey Arden, 44, Arnold Lancaster, 71, and 83-year-old Derek Weaver.
Greater Manchester Police has employed Professor Robert Forrest, one of the country's leading toxicologists, to advise on the case.
Mr Sweeney has also revealed that nurse Rebecca Leighton is still on the list of people police were interested in.
He defended the decision to arrest the 27-year-old in July, just a few days after the investigation opened.
She was charged with seven charges of criminal damage with intent to endanger life and theft, and was held in custody for six weeks before she was released without charge on 2 September.
Mr Sweeney said police were happy that they had the required level of evidence at the time she was arrested and charged.
"If that had progressed and Rebecca Leighton was the individual responsible... then we would have taken steps to prevent further harm," he said.
He said Ms Leighton was still on the list of people they were interested in as she had been one of the 700 interviewed as part of the inquiry.
Mr Sweeney warned that there might be further arrests and charges over the next few months which might also end up being withdrawn.
He said: "If we don't act and further harm takes place, you then have to look at yourself in the mirror and say, could we have prevented that death?"