Salford Crescent regeneration approved for consultation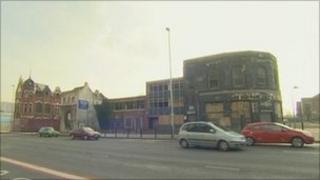 Multi-million pound plans to transform Salford Crescent have been approved for consultation by the council.
The £270m regeneration includes a makeover for the historic Peel Park, which opened in 1846 and is next to the University of Salford campus.
The council plans to create a business quarter, which it estimates could lead to the creation of up to 3,500 jobs.
The public consultation is set to run from 7 November to 16 December.
A new residential area is also planned on land currently owned by Salford University.
The plans also include building new office blocks in the Frederick Road area.
Salford's lead member for planning, Derek Antrobus, said the council wanted to preserve the heritage of the area as well as create something new.
"We want to attract people back to living in the area," he said.
"We want new businesses, commerce and shops to establish themselves there as well as entrench the existing uses of the university.
"We want to draw on the heritage of the City of Salford and make it a splendid place for Salford people to live, to work and to play."