Halle Orchestra age claim ruled 'misleading' by ASA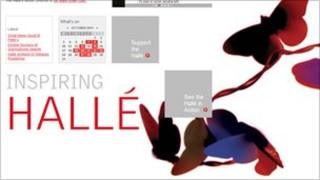 One of Britain's most well-known symphony orchestras has been told it must not call itself the country's "longest-established permanent professional" organisation anymore.
The 153-year-old Halle Orchestra had used the claim in marketing material.
The Advertising Standards Authority (ASA) ruled it was "misleading" after probing a claim the Royal Liverpool Philharmonic Orchestra was older.
Marketing director Andy Ryans said the Halle was "disappointed" by the ruling.
The Halle had defended the claim with various documents, including extracts from its founder Sir Charles Halle's autobiography and annual accounts from 1858.
It acknowledged the Liverpool Philharmonic Society, which later became the Royal Liverpool Philharmonic Orchestra (RLPO), was founded in 1840, but said it was "an organisation that acted as a concert promoter, rather than being an orchestra".
However, the ASA upheld the complaint, stating that while historic documents "might not be readily available", there was not enough evidence available to substantiate the claim and thus it was "misleading".
Mr Ryans said the orchestra was "obviously disappointed when the adjudication came through, but we are good citizens and we obeyed it completely".
"We changed the wording and we continue to be what the Halle has always been, which is a forward-looking organisation," he said.
Lack of evidence
He said he had been a "little surprised that there was a formal complaint" and said the line had been a "very accurate and very honest claim".
"The Halle was formed in 1858 and we were promoting ourselves as Britain's longest-established permanent professional orchestra, which is not a snappy tagline," he said.
"The reason we described ourselves in that way was because that was what we believed ourselves to be.
"My view is that it is a lack of evidence and that is acknowledged in the adjudication.
"The ASA has a particular level of evidence that they require to absolutely and uncontrovertibly support the claim, which we believed we could provide, but they found it didn't reach their benchmark."
Jayne Garrity, the RLPO's head of communications and corporate affairs, said it "does not matter who is older".
"Members [of the RLPO] were contracted for the whole of the concert season from 1851, which we believe shows the orchestra was a permanent fixture, rather than a scratch band, and from 1853, it was composed entirely of professionals," she said.
"But it's just great that the North West is home to two such eminent and long-established orchestras.
"Both orchestras are really enjoying a golden period at the moment and it is what we are doing today, tomorrow and next week that matters."