Linda Norgrove's parents accept posthumous award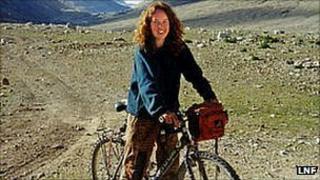 The parents of a woman killed in a rescue bid in Afghanistan have accepted her posthumous outstanding alumna award from her former university.
University of Manchester graduate Linda Norgrove died in October 2010, after an attempt to free her from her Afghan kidnappers went wrong.
John and Lorna Norgrove travelled from their home on the Isle of Lewis to attend the ceremony at the university.
Mr Norgrove said it was "a big honour" to collect the award.
Ms Norgrove joined the institution as a postgraduate in 1999, receiving her PhD from the university's Institute for Development and Management in 2003.
A seasoned traveller, Ms Norgrove was working with US consultancy company Development Alternatives Incorporated on development projects in a remote area of Afghanistan when she was kidnapped in September 2010.
The ceremony in Manchester saw an address from the university's Dean of Humanities, Professor Keith Brown, and contributions from Ms Norgrove's former lecturers and classmates, alongside a tribute from her parents.
Mr Norgrove said he and his wife had found the loss of their daughter "extremely difficult to come to terms with".
However, he said he was happy to receive the award, which celebrated "the life that she had, her aid work and her travels across the world".
"She led an extremely full life and it is a big honour to pick up this award.
"It goes to about one in every 10,000 students so it's quite an accolade."
The head of the institute in which Ms Norgrove studied, Professor David Hulme, said her death was still "such a sad loss for all of us".
"Our thoughts are with her parents who have suffered so much and whose lives have been reshaped by the terrible event last year," he said.
"Linda was highly regarded by her Afghani and expatriate colleagues - and had the analytical and practical skills to get things done in the most difficult of environments.
"She was one of the few people in the world to have the values and skills, to help improve living standards in such difficult contexts and fully understood how dangerous this work was.
"Someone had to try to help rural Afghanis improve their livelihoods and she was prepared to take the risks."