Four charged over Wythenshawe Park wildlife deaths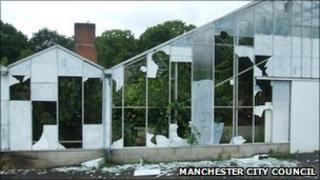 Four people have been charged with causing unnecessary suffering to animals and criminal damage after a horticultural centre was wrecked.
Frogs were speared, fish poisoned and 18 birds beheaded in the attack on the Wythenshawe Park centre in May.
Police charged Gavin Wellesby, 21, of Elmbank Avenue, West Didsbury, and three brothers, aged 12, 16 and 17.
Mr Wellesby will appear at Manchester Magistrates' Court and the brothers at Manchester Youth Court on 28 October.
The cost of the attack on the centre was estimated to be £10,000, as 130 windows were smashed and the wildlife inside killed.
During the incident, pond was filled with fertiliser, killing the carp, and trees chopped down.
Following building work, the centre reopened in August, largely thanks to donations from charitable groups and members of the public.