Danny Boyle's 'local' Radcliffe social club closure fear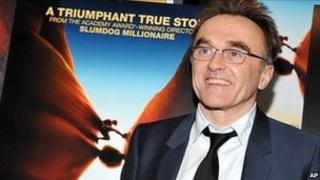 A social club made famous by film director Danny Boyle could close because of a lack of money.
St Mary's Catholic Social Club, in Radcliffe, Bury, was name-checked by Boyle in his Oscar acceptance speech for Slumdog Millionaire in 2009.
Hundreds of people visited it in the aftermath, but two years later it is struggling to attract enough regulars.
The club's committee has said it could be forced to close the venue unless more people start using it.
'Sign of the times'
A series of fundraising events has been planned in the hope the club can be saved.
Gary Mills, club member, said: "I feel that once it's gone, you've lost a place that you can never replace.
"There are too many places like this going, and people don't realise the link to the community that we have got."
Bar manager Ann Sumner said: "I used to live across the road 20 years ago, and they were queuing up outside just to get in.
"I just think it's the sign of the times, drinking habits have changed through society.
"We've got a lot of fundraising events going on and basically we have a lot of members, we have probably about 400 to 500 paid-up members, but not all of them come in regular.
"We probably have a core of 120-150 who come in a couple of times a month."
As a boy, Boyle, 55, who grew up in Radcliffe, used to drink lemonade in the Pine Street club which his father used to run.
He promised to mention the club if he won an Oscar for Slumdog Millionaire.
The film went on to win eight Academy Awards, including Boyle's best director award and best picture prize.
Family and supporters of the director, whose other films include 28 Days Later and Trainspotting, gathered at the club to watch the ceremony.
He later went back there to show regulars his awards.