Field hospital volunteers given freedom of Manchester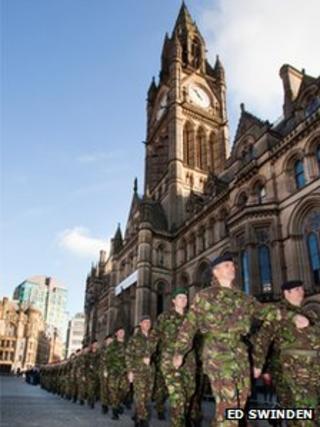 A voluntary military hospital unit which served in Afghanistan has been given the freedom of its home city.
207 Field Hospital (Volunteers) was presented with the honour at a ceremony in Manchester's Albert Square.
The unit, which returned from Camp Bastion in January, then marched through the city with The Lancashire Artillery (Volunteers) Band.
Maj Martin Smith said: "We are part of history today. It is a unique occasion for anybody to be involved in that."
The Deputy Lord Mayor of Manchester, Elaine Boyes, and the Lord Lieutenant of Greater Manchester, Warren Smith, inspected the troops before Manchester City Council chief executive Sir Howard Bernstein bestowed the freedom of the city.
The 207 Field Hospital is mostly made up of doctors and medics who serve voluntarily and is one of 11 Territorial Army units which provide medical support to UK forces on operations overseas.
It was founded in 1885, when a Volunteer Medical Staff Corps was formed from professors and lecturers at Owen's College (which later became the University of Manchester) and influential Manchester gentlemen.
Forty-four personnel from 207 Field Hospital, based in Stretford, served at the British Military Hospital in Camp Bastion between October 2010 and January 2011.
Commanding officer Col Kerry Trow, speaking ahead of the ceremony, said being granted the freedom was "a huge privilege".
He said members of the regiment were "soldiers first, healthcare professionals second".
"The satisfaction from doing our jobs well, providing first-class care for British soldiers, is the only reward we seek," he said.
"So, to be honoured in this way by the council and the people of Manchester is a huge privilege.
"It makes us enormously proud and is one of the most important events in the history of 207 Field Hospital."
The awarding of the city's highest honour, which gives the unit the right to march through the city on ceremonial occasions, is the first to be conferred on the military since it was given to the Duke of Lancaster's Regiment in 2007.
The Freedom of the City of Manchester has been conferred five times in the last 11 years.