Fire crews tackle blaze in Miles Platting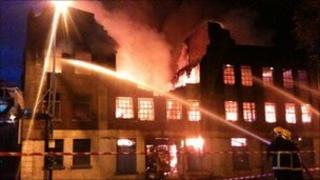 More than 50 firefighters have brought a blaze "under control" at a commercial building in Greater Manchester.
Crews were called to a property at the junction of Oldham Road and Varley Street in Miles Platting, after reports that two of its floors were alight.
It was reported that the building, which had previously been used as a furniture store, is now unoccupied.
A cordon is in place and drivers have been asked to avoid the road. There have been no reports of any injuries.
A fire service spokesman said the number of crew members at the scene was downscaled to 25 once the blaze was brought under control.
He added they would remain there overnight to damp the fire down and that an an investigation into the cause of the fire was expected to start on Saturday.