Elbow support act The Slow Show replace stolen drums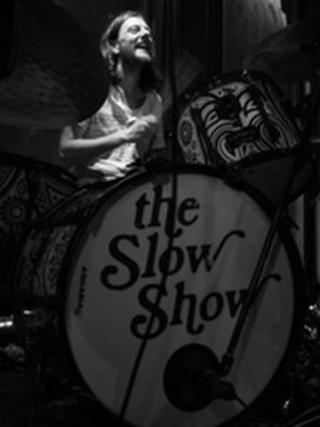 The band who had their drums stolen ahead of a show with Elbow at Manchester Cathedral have had "lots of offers" of a replacement kit.
The drums belonging to The Slow Show's drummer Chris Hough were stolen on Monday evening.
Band member Fred Kindt said they had chosen a substitute kit for the show on Thursday and that even former Smiths drummer Mike Joyce had offered a set.
Police have asked anyone with information to contact them.
Mr Hough's kit was stolen during a burglary at a house in Kemble Avenue, Northenden.
The Pearl drums, worth several thousand pounds, were taken along with cash, electrical equipment and the drummer's van, in which the kit was stored.
The van, a white Peugeot Expert with the registration S18 HUF, had the words "keep on drumming" written on the side.
Mr Kindt said that it had also contained the suits which the band were intending to wear for the show.
'Easily recognised'
Mr Hough said: "I was loading up the van to come to rehearse on Monday night and my wife asked her to go to the supermarket with her.
"I was begrudging and eventually I did go, but when we returned about an hour later the van had disappeared and they had smashed through the back doors at the back of the house.
"All the stuff had gone, cymbals and some things out of the house.
"I have been playing 25 years and it has taken a lot of time to build this stuff up."
He said he was still hopeful of getting his kit back for the show.
"My kit was custom made and so special to me," he said.
"I am hoping the thief realises the kit will be easily recognised if they try to sell it and dumps it somewhere soon."
Det Insp Lee Price, of Greater Manchester Police, said the force was attempting to recover the stolen drums.
The gig is part of the BBC Radio 2 In Concert series and is due to be broadcast on Radio 2 from 20:00 BST on Thursday.
The Slow Show, who open the concert at 19:00 BST, were chosen as support by BBC Introducing in Manchester and their set will be played out on that show.