Photos of Lowry mentor Adolphe Valette's paintings found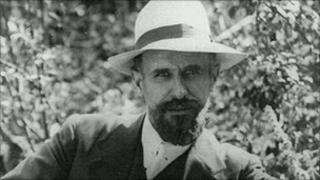 Photographs of missing paintings by LS Lowry's mentor Adolphe Valette have been uncovered ahead of an exhibition of the French impressionist's work in Greater Manchester.
Valette moved to the city in the early 1900s, teaching Lowry at art school.
While researching an exhibition of Valette's work for The Lowry, Salford, experts found an envelope of photos of unknown paintings by the Frenchman.
They have asked anyone who knows where the paintings are to contact them.
Cecilia Lyon, curator of the exhibition, said she discovered the photos while visiting collectors to discuss their Valette paintings.
'Extraordinary discovery'
She said: "I arrived at this lady's home and, much to my surprise, this person also showed me an envelope.
"This was an extraordinary discovery. These are photographs that the collector bought at an auction in Chester.
"They show paintings by Valette but, quite extraordinarily, most of these paintings have disappeared."
Ms Lyon said the photos showed "beautiful Manchester impressionist paintings", including one of Dover Street in the city centre.
Art collector, Tim Chapman, believes that some of the paintings might have been destroyed during the artist's lifetime.
He said: "I've got information... that there was a house fire in Valette's house in or before 1928. That house was in Ardwick Green, Manchester.
"A lot of paintings pre-1928 were destroyed, which could explain why they have never turned up."