Manchester children's hospital has high waiting list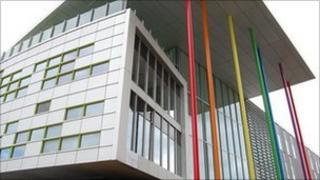 Hundreds of patients at the Royal Manchester Children's Hospital have been treated elsewhere because of long waiting lists.
Central Manchester University Hospitals NHS Foundation Trust (CMFT) said it was trying to cut the waiting list, which stands at about 1,500.
So far about 900 children and their families have chosen to go to other hospitals, both private and NHS-run.
The trust said some children had been treated as far away as Liverpool.
It said a small number - fewer than 10 - had taken up the offer of treatment at Alder Hey.
The trust said it was one of a number in the North West which had experienced difficulty meeting the NHS performance target that at least 90% of patients should wait no longer than 18 weeks between their referral to the hospital and treatment.
It said it regularly reviewed patients on its waiting list to make sure no one waiting for treatment was in urgent need. Those who needed urgent treatment were fast-tracked.
The trust said the waiting list was believed to be down to a rise in patient numbers rather than a lack of facilities at the hospital.
A spokesman for NHS Manchester said: "CMFT and its commissioners have been working hard to ensure that patients waiting for treatment can do so within the waiting times required by the NHS constitution.
"We expect that the trust will return to achieving the 90% target from the beginning of January 2012."
The Royal Manchester Children's Hospital opened on Oxford Road in 2009 and is believed to be Europe's biggest children's hospital.
It is the size of 39 football pitches and has more than 370 beds.