Fourteen arrests after Oldham drug raids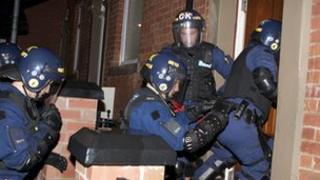 Fourteen people have been arrested in a series of drugs raids in Greater Manchester.
Seven men and six women in the Oldham area were arrested on suspicion of drugs offences including possession with intent to supply class A drugs.
The arrests were made on Thursday at properties in Hathershaw, Westwood, Fitton Hill and Saddleworth.
Police said Operation Rescind III was in response to community concerns over drug dealing in the area.
'Blight of drugs'
More than 100 officers were involved in the raids which followed on from Operation Rescind in March and Operation Rescind II in July.
One woman was also arrested on suspicion of illegally abstracting electricity.
Supt Catherine Hankinson, from Greater Manchester Police's Oldham Division, said: "[This] shows that the desire to rid our communities of the blight of drugs is continuous and we will go back and keep tackling the issue in the same area as many times as necessary until the problem is dealt with.
"Residents told us that dealing was a worry to them so we have responded robustly to combat this.
"Drugs wreck lives and the crime associated with them causes misery to the whole community - so we do everything possible to find out who is responsible and put them before the courts."