Row over access to Delph Independent Chapel graveyard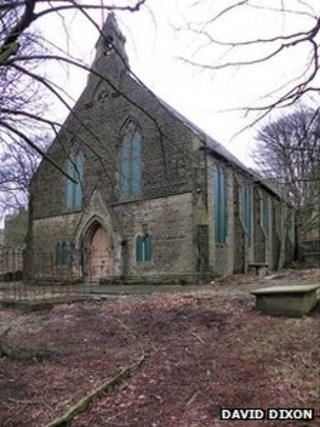 Relatives of people buried in a Greater Manchester graveyard have said they cannot visit plots due a lock being put on its gates.
Visitors to Delph Independent Chapel, which became private property in the 1990s, can only access graves after getting the key from an estate agents in a neighbouring village.
Phil Beckworth, whose family is buried there, said the move was "a disgrace".
The owner, who lives in Switzerland, was unavailable for comment.
The key to the property is held by Bridges Estate Agency in Uppermill.
Partner of the firm, Mark Rose, said he thought the recent addition of the lock was due to insurance issues and that no-one with a right to enter was being stopped from doing so.
"It is not about denying someone access, it is about having a system in place," he said.
"We were asked to have a go [at being key holder], as the person doing it wasn't in all the time and it had become a problem.
"People come in, sign a log and we give the key out."
'Devastated community'
Mr Beckworth, who owns a plot in the cemetery and intends on being buried there, said the system was "disgraceful".
"I don't care what excuse anyone uses, it's sacred ground and there's got to be better ways of doing this," he said.
He said he thought the lock had been added "in the hope that people will not go up there".
"It will just disappear into the wilderness and the next thing you know, there will be flats and the graves will be disturbed," he said.
Saddleworth Parish Councillor Ken Hulme has campaigned against any redevelopment of the chapel site.
He said locals "remember the church and particularly the older community are devastated by what has been happening".
"The owners have behaved with total disregard and contempt for the feelings of local people," he said.
Mr Rose said his company was simply acting as a key holder for a customer and that the owner had said "anyone who has a right to visit or a reason to go in was more than welcome to".
He said his firm had recommended solutions to the current problems to the land owner.
These include having several keys cut and the key holder responsibilities being passed to someone with a stronger tie to the graveyard, such as Mr Hulme, or to a business closer to it, such as the nearby White Lion pub.
Plots at the cemetery include three Commonwealth War Graves and the resting places of several members of the family behind Wrigley's Chewing Gum, alongside the graves of generations of local residents.
Mr Rose said as the cemetery contains war graves, it will be opened up for the whole day on Friday and on Remembrance Sunday, subject to the owner's consent.