Snow disruption 'costs Greater Manchester £5m a day'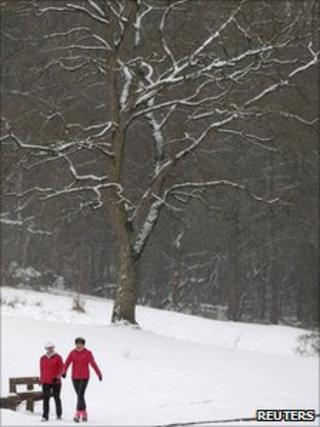 Disruption due to snow and ice costs businesses in Greater Manchester a total of £5m per day, the chamber of commerce has said.
Brian Sloan, the chamber's director, said it had reached the figure based on disruption last December.
It included the loss of productivity due to people not being able to get to work and the impact on shops, bars and restaurants, he said.
Councils across the region have been gearing up for potential cold snaps.
In Stockport, the local authority has stockpiled more than 4,500 tonnes of grit - a 50% increase on last year.
Mark Pickering from the council said: "We have learned out lessons from the past three winters.
"We have increased the resilience of the service through increased salt stocks and we have reviewed all the gritting routes, all the priority areas."
Mr Sloan said it was vital for the local economy that the roads and rail network were kept open in any future cold snaps.
But he said ensuring footpaths were kept clear so people could get to shops, bars and restaurants was also essential for businesses.
"It (snow and ice) will cause distress on businesses which are experiencing difficulties anyway, due to the low growth environment," he said.
"We have got to remember... Manchester city centre sustains a large number of jobs for not only people here in Manchester but around the region."