Manchester Town Hall clock tower opens to public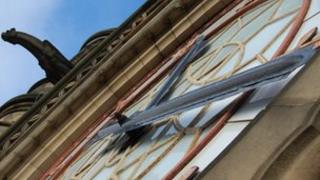 Manchester Town Hall's clock tower is to open regularly to the public for the first time in its 134-year history.
The 85m (280ft) tower, which houses 24 bells alongside a four-faced clock, will host guided tours from Thursday, 17 November.
Manchester City Council's Mike Amesbury said there had been "considerable demand" for public access.
"Here's a chance to see some glorious history and hear a large sound up close," he said.
The tower, which sits above the entrance to the town hall, has several bell-ringing and mechanical rooms and is home to the eight tonne hour-striking bell, Great Abel.
Mr Amesbury said that it was not just the sights inside that were worth seeing.
"It's a fantastic view from up there," he said.
"You get a great view of the city, the Cheshire Plains and across the Pennines as well."
He said that while the tower had been opened for charity functions before, this would be the first time it had been opened to regular visits.
"It's an iconic building and a real gem for Manchester citizens," he said.
"This is the opportunity to see something which has been largely closed to the public for 134 years."