Manchester Remembrance Sunday service held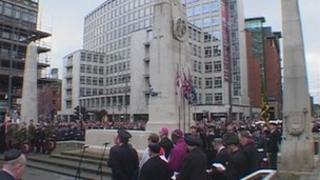 Manchester's Remembrance Sunday memorial service has been held.
Servicemen and women in uniform marched from the town hall in Albert Square to the Cenotaph in St Peter's Square.
They were joined by representatives from the Navy, Army, Air Force, Royal British Legion, Duke of Lancaster's Regiment and Reserve Forces.
The Lord Mayor of Manchester, Councillor Harry Lyons JP, marched with them as did members of Manchester City Council and several faith leaders.
A large crowd of members of the public who had come to pay their own respects to the fallen also gathered for the ceremony and two minute silence.
Sir Bobby Charlton
Many veterans in their campaign medals also observed the silence, which was ended by the firing of a gun.
Mr Lyons then laid a wreath on the Cenotaph, followed by representatives from the Royal Navy, Army and RAF and leaders of other organisations.
Faith leaders in turn read prayers before civic dignitaries then walked to a dais outside Manchester Town Hall to take the salute from a parade of local servicemen and women and veterans.
Among those walking was Sir Bobby Charlton, the ex-Manchester United captain and 1966 World Cup winner who smiled and waved as he was clapped and cheered by members of the public.
After the march-past, the national anthem was sung to the accompaniment of the Greater Manchester Police brass band.
Mr Lyons said: "It's extremely important that we hold the commemoration for Remembrance Sunday.
"It provides us all a time to reflect on past and current conflicts and to pay our respects to all men and women who gave their lives fighting for our freedom."
Manchester also marked Armistice Day on Friday with a two minute silence observed at 11:00 GMT.