Man and woman violently attacked on Bury Metrolink tram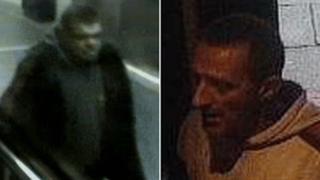 Two men attacked a woman and a man on a tram in Greater Manchester, leaving the woman with a fractured eye socket and her friend with a black eye.
Police said the 22-year-old woman and 29-year-old man were at the Metrolink Station in Bury when one of the attackers shouted abuse at the woman.
When they got on a Prestwich-bound tram, she was headbutted and she and her friend were attacked on the floor.
Anyone who witnessed the incident, on 5 October, is urged to contact police.
Detectives said the woman had her face stamped on five times and the man was kicked in the face in the attack, which began at about 18:40 BST.
'Unprovoked attack'
Both the attackers then walked off in the direction of Bury town centre.
The woman suffered a fractured eye socket and swelling to the face and body and the man suffered a black eye and injured ear.
Police have released CCTV images of two men they want to speak to, who are both believed to be in their 40s.
Det Con Simon Swann, from Bury CID, said: "This was a completely unprovoked and violent attack on two people who were returning home from an evening out.
"They have been left with serious injuries that have left them both in a lot of pain.
Speaking about the CCTV images released, he said: "The images we have are clear and we believe someone must know who they are. I would urge anyone who may know or recognise them to contact police.
"Alternatively, if you were at the Metrolink Station at the time of the attack and saw the assault or these men, please phone us."