Wigan £12m anti-flooding programme completed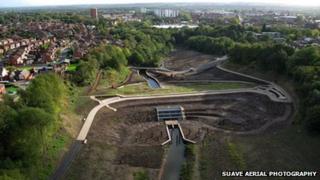 A £12m scheme to protect 600 homes and businesses in Wigan from flooding has been completed.
The Environment Agency has taken four years to build a 150m (492ft) wide dam across the River Douglas to reduce the risk of the river bursting its banks.
After a flood, the stored water will be slowly released back into the river until normal levels are achieved.
Councillor Mike Dewhurst, who lives in Poolstock, said he was "thrilled" to see the work finished.
'Creating an asset'
He said: "We used to get flooding about twice a year. It's been a problem for about 30 years."
Adam Walsh, the Environment Agency's flood risk manager for the area, said the scheme would reduce the risk of flooding from the River Douglas to a 1% chance in any given year.
He said: "We can't prevent flooding altogether, but we do manage it with schemes like this and flood warnings.
"It's really about creating something that's an asset and a benefit to that local community."
The 8m (26ft) high dam structure has a capacity of 370,000 cubic metres, the equivalent of 148 Olympic-sized swimming pools.
The area has also been landscaped, with about 3,800 trees planted, as well as wildflower plants and aquatic species to enhance biodiversity.
Flooding minister, Richard Benyon said: "This new flood defence for Wigan will protect hundreds more homes in and around the town.
"We are better prepared than ever to respond to major floods and Wigan's new defences show the care being taken to keep people safe and prevent devastating damage to homes, businesses and communities.
"It's part of over £2.1 billion worth of funding to improve our resilience to flooding and coastal erosion over the next four years."