Salford explosion: MP wants faster answers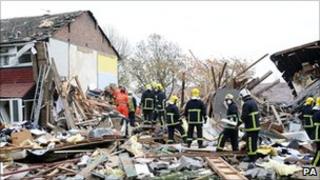 An investigation into the cause of a gas explosion that devastated a street in Salford needs to be "speeded up", an MP has said.
Three homes were flattened and more had to be pulled down when a cooker blew up in Merlin Road, Irlam, last November.
Barbara Keeley MP said she had written to the Health and Safety Executive (HSE) to complain about the length of time their investigation was taking.
A HSE spokesperson said it was "progressing as quickly as possible".
Fifteen people were injured in the blast, including pensioner Marie Burns who suffered 30% burns.
Ms Keeley, MP for Worsley and Eccles South, said: "They're still doing interviews. I find it a bit strange actually because, one year on, it's starting to fade in people's memories."
She said that some residents were still having nightmares about the incident, and wanted reassurances about safety as they moved back to the street.
She added: "We seemed to have developed a pattern where these things take years and maybe it's about time we asked, why do they take years?
"That community can't move on until it gets these answers."
A HSE spokesperson said its investigation team was still gathering statements in relation to the explosion.
They added: "The size of the incident, the technical issues and the fact that there are multiple duty holders makes this a very complex investigation, but we are progressing as quickly as possible."