Danger Mouse creator Mark Hall's 'legacy of quality'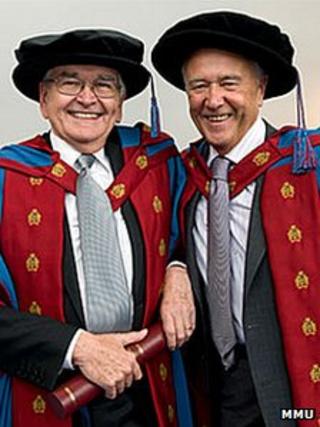 Mark Hall, who has died after a short battle with cancer, found a place in the nation's childhoods through his part in hugely successful animation company, Cosgrove Hall.
Their creations - which included Danger Mouse, Fifi and the Flowertots and Count Duckula - were screened in 80 countries, entertaining four decades of children before the company folded in 2009.
Hall met Brian Cosgrove while the pair were studying at Manchester School of Art in the 1950s.
Following graduation, both went to work in television, doing graphic design at Granada Television.
Hall left his role at Granada in 1971 to start Stop Frame Productions, which he said in a 2006 interview was "where we cut our teeth".
He was joined by Cosgrove and together the pair provided TV animations, including work for what would become one of ITV's best-loved children's shows, Rainbow.
Their first production, The Magic Ball, was filmed in Cosgrove's garden shed.
In 1975, Stop Frame was wound down, but the following year, the duo formed Cosgrove Hall.
From the outset, the pair's love of mixing the mundane with the magical to great effect was evident, with the hippie dragon hero of their first show, Chorlton and the Wheelies, taking his name from the Manchester suburb where the company was based, Chorlton-cum-Hardy.
'Fantastic boss'
The programme would be the first of several hit shows.
Possibly their best known creation, Danger Mouse, followed in 1981. It was also the pair's most-watched show.
Two years later, they made their first feature length animation, an adaptation of Kenneth Grahame's The Wind In The Willows.
The film won both a BAFTA and an International Emmy, two of many national and international awards that the company would be given.
Jean Flynn worked for the company for 30 years, initially as an animator, before rising through the ranks to become a senior producer.
She said Hall was "so well loved and was such an inspirational and fantastic boss".
"He fostered such encouragement and creativity and had a terrific generosity of spirit; helping hundreds of people start out in the animation industry," she said.
"He had such a love for life and brought so much life into Cosgrove Hall.
"His love for life sparked all his ideas and characters and he was completely and utterly passionate about telling animation.
"He will be dearly missed."
'Great sadness'
After the pair had retired in 2000, ITV bought the company, but in 2009, decided to close it down.
Hall and Cosgrove had been planning a comeback with Irish entrepreneur Francis Fitzpatrick.
Mr Fitzpatrick said it was "with great sadness that I heard of the passing of my business partner Mark Hall".
"He was iconic within the animation industry and it has been a real pleasure to work with such a kind, caring and generous person," he said.
Hall leaves behind a legacy of much-loved TV shows, a situation which he himself said was down to the effort the pair put into the programmes.
He said in 2006: "We always put quality into kids' programmes, it's one of the things that defines us from the rest.
"My grandchildren watch them. They know the difference between programmes made [by us] and elsewhere.
"There's also a legacy in terms of quality - of taking care of scriptwriting, voices, acting performances as well as the animation and everything that goes on to make this magical thing.
"And if that goes on for kids, I will be delighted."