School crossing patrols reviewed by Manchester council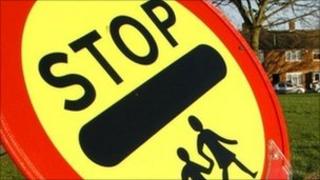 The future of school crossing patrols in Manchester is under review as part of cuts to the council's budget.
All crossings are being reviewed as town hall bosses try to save nearly £110m in the next financial year.
In some areas, parents have been asked to volunteer as lollipop ladies and men as schools consider how they can keep the crossings going themselves.
Manchester City Council said it was doing everything possible to retain as many crossing patrols as possible.
It said its review was due to conclude in mid-December and more details would be known then about where savings would be made.
Manchester did have 156 patrolled crossings, but 36 have already been discontinued because they were classed as low risk and staff had accepted voluntary severance or taken early retirement.
'Improving standards'
Remaining staff have been moved around to cover higher priority crossings and a further 24 crossings which had not been regularly patrolled for some time have also been discontinued.
The remaining 96 are being reviewed, but the council said it had no intention of removing any patrols at crossings considered high risk.
Councillor Paul Andrews, Executive Member for Neighbourhood Services for Manchester City Council, said: "All crossings where patrols are currently operating have funding in place until the end of March 2012 and we are determined to retain as many as possible beyond that."
He said discussions were under way with schools over how to fund crossings.
John Leech, Liberal Democrat MP for Manchester Withington, said it was "outrageous" that the council was trying to force the responsibility of crossings on to schools.
He said: "Schools are getting extra money but that is supposed to be spent on improving standards and not on school crossing patrols."