Probe into Lowry Hotel food poisoning outbreak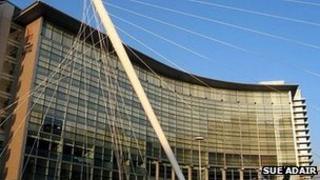 Health officials are investigating an outbreak of food poisoning which affected 80 guests at a five-star hotel in Greater Manchester.
Diners reported dizziness and vomiting after attending a charity dinner at The Lowry Hotel in Salford last month.
A spokeswoman for the Health Protection Agency (HPA) said its investigation with Salford City Council was ongoing.
The Lowry Hotel said it was carrying out a full and in-depth investigation with environmental health experts.
The HPA said the guests suffered from campylobacter, a bug which can be caused by undercooked meat.
Detailed investigation
Campylobacter can cause diarrhoea, cramps and abdominal pain. It causes about 55,000 cases of food poisoning a year in the UK.
Dr Rosemary McCann, a consultant with the HPA's Greater Manchester unit, said: "Investigations are still ongoing, including analysis of a questionnaire returned by guests.
"Environmental health officers from Salford City Council are working with the hotel."
The HPA said the hotel's management and staff were cooperating fully with the investigation.
General manager of The Lowry Hotel, Peter Kienast, said: "We are very sorry to hear that a number of guests fell ill following a function at our hotel in October.
"We are determined to get to the cause of the issue and the detailed investigation is reviewing every stage of the process from the food source itself to its delivery.
"On being informed, we immediately requested our retained food safety specialist carry out a full and in-depth investigation with the environmental health office, which is still continuing."
He added: "This is the first incident of its kind in The Lowry Hotel's past 10 years.
"We are in contact with the organisers of the event and assisting them with any needs they may have as the investigation continues."