Eric Pickles rejects CPO for empty Manchester building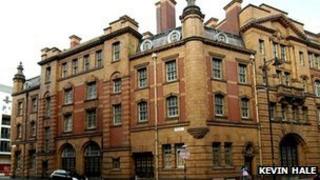 Manchester City Council has said it is surprised the government will not allow it to buy a city centre building which has been derelict for 25 years.
Communities Secretary Eric Pickles has rejected a Compulsory Purchase Order (CPO) application from the council for the former London Road Fire Station.
The building was the subject of a public inquiry earlier this year.
Nobody from the Grade II listed property's owners, Britannia Hotels, was available for comment.
The Edwardian building near Piccadilly Railway Station opened in 1906 and closed in 1986. It is included on English Heritage's "at risk" register.
"We are disappointed and surprised at this judgement. This landmark building has been lying largely empty and disused for a quarter of a century while under Britannia's ownership," a council spokesman said.
"What should be an asset for Manchester has become an eyesore."
The council had argued that the derelict building was a blight on the Piccadilly area.
"We note that, as a result of the public enquiry, Britannia have made a public pledge to return London Road Fire Station to use as a high quality hotel as soon as possible," said the spokesman.
"The people of Manchester will hold them to that promise and no-one will be more pleased than us if they honour their words."