Rethink urged on Manchester council school crossing cut plan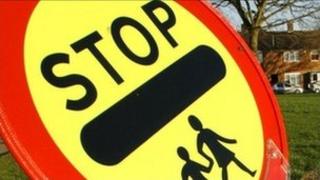 Manchester City Council has been urged to reconsider plans to scrap lollipop ladies and men by a city MP.
The Labour-led council is reviewing all crossings as it tries to save nearly £110m in the next financial year.
John Leech, Liberal Democrat MP for Withington, said the council's plan will affect child safety and has tabled a Commons motion against it.
The council has previously said it was doing everything it could to retain as many patrols as possible.
Its review is due to conclude in a couple of weeks, at which point the authority is due to give more details about where the savings would be made.
Manchester had 156 patrolled crossings. Thirty-six, which were classed as low risk, have been discontinued and staff had accepted voluntary severance or taken early retirement.
A further 24 crossings which had not been regularly patrolled for some time have also been discontinued.
The remaining 96 are being reviewed, but the has council said it did not intend to remove any patrols at crossings considered high risk.