Proactive's Wayne Rooney agreement 'unenforceable'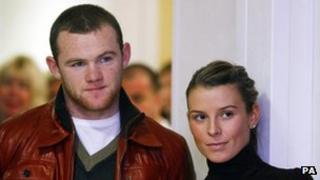 Footballer Wayne Rooney will not have to pay his former management company £4.3m after a judge ruled a deal he signed aged 17 was "unenforceable".
Proactive Sports Management claimed it was owed commission payments by the Manchester United and England star.
But the Court of Appeal upheld a previous ruling that the image rights representation agreement Rooney had signed was a restraint of trade.
Proactive no longer represents Rooney, 26, or his wife Coleen.
The company was appealing against a ruling at Manchester Mercantile Court last year.
'Due commission'
The court had been told that Rooney was signed on an eight-year deal with Proactive by its founder and director Paul Stretford.
His wife also "turned to Proactive and Mr Stretford" for assistance "in developing the commercial opportunities which began to come her way".
But Mr Stretford left the firm in 2008 and launched a new sports management firm, taking the Rooneys with him.
Rooney had not made commission payments on deals after Mr Stretford left. Proactive had argued that, because contracts were brokered by Mr Stretford while he was still at Proactive, it was due commission.
Lady Justice Arden, Lord Justice Sullivan and Lord Justice Gross announced their findings earlier, after an appeal hearing in July.
'Justice done'
The judges upheld the majority of the previous ruling but said the judge in the original case, Brendan Hegarty QC, had been wrong in his analysis of commission terms in an agreement made between Proactive and Mrs Rooney.
Mrs Justice Arden said Proactive's appeal had, therefore, been "allowed in part".
Paul Hughes, representing Rooney, said this meant Mrs Rooney would have to make an additional payment to Proactive.
She had originally been instructed to pay the firm £90,000 while her husband had been ordered to pay £5,000.
Rooney said later in a statement: "I am delighted."
He added: "I was stunned when Proactive claimed the amounts they did.
"Coleen and I have always been happy to pay proper commissions to the people who are owed them. But Proactive's claim for money after we left the company were a joke."
Rooney said "justice had been done" and said: "I never wanted to go to court in the first place.
"But you just have to fight for what's right in life. That's what I've always done."