Nellie Geraghty: Family thanks community for support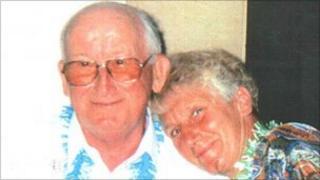 The relatives of a woman who died after she was mugged for her handbag, which contained her husband's ashes, have thanked the community for its support.
Nellie Geraghty, 79, was hurt as she tried to stop her bag being stolen in Shaw, Oldham, on 24 November.
She was found in an alleyway between Elizabeth Grove and Kershaw Street with the handbag strap in her hand. She died in hospital the next day.
On Wednesday, 150 residents helped look for the contents of her bag.
In a statement, Mrs Geraghty's family said: "We would like to say a heartfelt thank you to the public, the police, and everyone that has supported our family over the past week.
"The response has been truly overwhelming.
"Our lives have been devastated by what has happened, but we have taken great comfort from the determination of people to bring those responsible to justice and the efforts made to find Frank's ashes."
'Search your conscience'
Det Ch Insp Joanne Rawlinson, of Greater Manchester Police, said: "Whoever is responsible left an elderly woman injured, unconscious and alone on the ground.
"Someone knows something that will bring the offenders to justice and I want them to think about what Nellie's family is going through and then ask yourself how you would feel if this was your mother or grandmother.
"You must search your conscience and find the courage to do the right and just thing, and call me."
Police said officers had raided three houses in Oldham earlier, as part of their investigation.
Ms Rawlinson said she had been grateful for the community's support. She urged residents to wait before carrying out further searches to give officers some time to review information gathered.
"We will then invite residents to once again help us on what will be a more focused and coordinated search effort," she said.
Two boys, aged 14 and 17, were arrested on suspicion of murder. They have been released on police bail until 9 January.
Anyone with information is asked to contact Greater Manchester Police or Crimestoppers anonymously.