How former Man Utd star Ronnie Wallwork fell from grace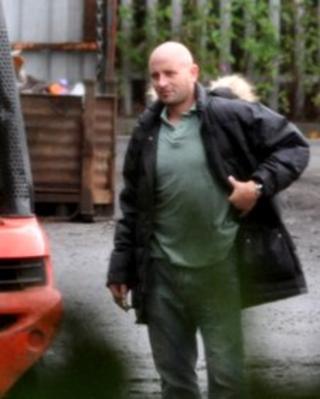 He was the Premier League footballer who became a lower league villain.
In 2000-01 Ronnie Wallwork played enough games for Manchester United to earn a Premiership winners' medal. But his career also saw him banned from football for life for attacking a referee, although the ban was later reduced.
And Wallwork, 34, has now been jailed for 15 months at Preston Crown Court after admitting three counts of handling stolen cars.
His crimes came to light when undercover officers were carrying out surveillance of the area as part of Operation Solomon, an attempt to track down a gang of armed robbers who had shot a Tesco security guard at a Preston supermarket.
The main targets of the North West Regional Crime Squad were Craig Bulger and Mark Cain - who were involved in a raid in which a security guard was shot several times at a Preston supermarket.
While staking out the 10 Arches scrapyard in the Clayton area of Manchester, officers soon discovered the ex-footballer had his own, entirely separate, criminal enterprise going.
Financial difficulties
Wallwork was spotted driving a Volkswagen Touran with cloned number plates.
"It was a bonus really," said one of the undercover officers.
"At first we had to work out whether it was connected to the main investigation but we realised this was separate criminal activity.
"One was Premier League this was lower league."
Wallwork was spotted selling the Touran engine to a German man, who had seen it advertised on the internet auction site eBay. He was also seen driving a stolen Mazda into the scrapyard.
He had previously used eBay to sell some of the kit from his playing days at West Bromwich Albion, where he was player of the year in the 2004-05 season.
Parts of the broken up Touran were found in the area of the scrapyard used by Wallwork and officers also discovered photos of BMW parts as well as documents relating to a stolen BMW at his home.
Police believe he had only been operating this enterprise for a few weeks.
The court was told player had financial difficulties following his retirement from football and two failed business ventures and police believe he got caught up in the criminal sub culture of Newton Heath.
Clarke Carlisle, chairman of the Professional Footballers Association, said: "It is such a tragedy to see a promising life and career descend into these unfortunate and illegal circumstances.
"Ronnie has been offered the full support of the union previously, and we will continue to be there as and when he calls upon us."
England career
In 1997 Wallwork, who could play in defence or midfield, was an ever-present in an England under-20 team which played in the World Youth Championships in Argentina.
Other players in the team, such as Michael Owen and Jamie Carragher, Kieron Dyer and Matthew Upson, have gone on to have successful international and Premier League careers.
But Wallwork's career was one of contrasts. In 1998 he received a rare life ban from the game for grabbing a referee by the throat while on loan to Royal Antwerp in Belgium. The ban was later reduced to three years, with two years suspended.
In 2002 he was described as the "Bosman of the year" by Sir Alex Ferguson when he left Old Trafford for West Bromwich Albion on a free transfer.
He was named the Baggies' player of the year in 2004-05 season when the club narrowly beat relegation on the last day of the season.
That was to be a high point in a career which was further interrupted in 2006 when he was stabbed by the ex-partner of his girlfriend.
His footballing career eventually fizzled out in 2008. Police are hoping they have nipped a criminal career in the bud.