Man Utd youngsters remember Christmas truce match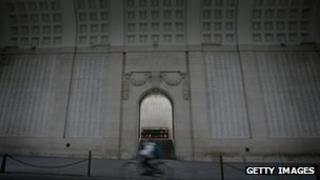 A team of Manchester United youngsters will recall the famous 1914 Christmas truce of the World War I in Ypres, Belgium this weekend.
United's under-12 team will play teams from Germany, France and Belgium at an event organised by the Premier League.
It will recall the day when the fighting stopped and soldiers played football against each other.
The boys will take part in the last post ceremony at the Menin Gate memorial.
Teams from Racing Genk, RC Lens and Borussia Dortmund will provide the opposition for the Christmas Truce International Youth Tournament.
Brian McClair, the former United striker who is now director of its youth academy, said: "I think it's important to understand that football has a wonderful power to build bridges.
"Certainly the visit to the Menin Gate will be very thought-provoking for them and will be a point in their life where they will be able to look back and say, 'I'm glad I did that'.
"They are going to be given the time to pause and reflect what happens when others go and fight for a bigger cause.
"And it's also going to be interesting for them to see how football transcended all of that for a short while."
The Football League was suspended during the war but clubs still played in regional leagues.