Nurse Rebecca Leighton dismissed from Stepping Hill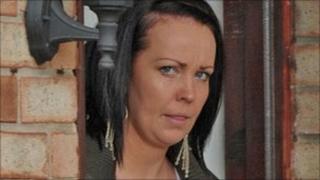 A nurse investigated over contaminated saline solution at Stepping Hill Hospital in Stockport has been dismissed, the BBC understands.
Rebecca Leighton, 28, spent six weeks in prison before charges against her were dropped in September.
The Nursing and Midwifery Council (NMC) lifted her ban on nursing but she remained suspended pending a hospital inquiry over the theft of drugs.
Meanwhile, police said they were now examining the poisoning of 19 people.
They include the deaths of three patients - Tracey Arden, 44, Arnold Lancaster, 71, and 83-year-old Derek Weaver.
All three were administered insulin unlawfully, police said. Tests are continuing to establish whether the poisoning contributed to their deaths.
Miss Leighton, of Heaviley in Stockport, admitted stealing opiate-based drugs at the NMC hearing, but said they were to treat her throat infection.
Stockport Hospital Foundation Trust has declined to comment. It is understood Miss Leighton has the right to appeal before the decision is finalised.
'Immensely challenging'
Police were first were called to the hospital on 12 July after an experienced nurse reported a higher than normal number of patients on a ward with "unexplained" low blood sugar levels.
In October, detectives said they were looking at about 42 potential victims who could have been harmed by the contaminated solution.
Detectives and medical experts have reviewed those cases and have now concluded that 19 people were unlawfully poisoned, a police spokesman said.
Twenty-one patients have been eliminated from the inquiry. They have not been able establish whether two other patients who suffered hypoglycaemic episodes did so naturally or as a result of being poisoned, the spokesman added.
The focus of their inquiry has been on two wards in the hospital between 1 June and 15 July.
Police have interviewed 650 "key and significant" witnesses, the spokesman said.
Assistant Chief Constable Terry Sweeney said: "From day one, we knew this would be an immensely challenging inquiry - and that continues to be the case - but we are now beginning to see the wood from the trees and have effectively completed the first phase of our investigation.
"I know victims and the relatives of those poisoned as well as the wider public and those at the hospital want answers and we are working as quickly as we can without jeopardising the quality or integrity of the investigation.
"I cannot stress enough just how complex and difficult this investigation is. We are continuing to carry out detailed forensic and medical inquiries and these take time and cannot be rushed.
"It is important the public understands that this is not something that can be done over the space of several weeks, or even months, but rest assured we are determined to identify whoever is responsible and continue to commit significant resources to the investigation."
Mr Sweeney said he could not go into the detail of the work of detectives but said the inquiry continued to be a "search for the truth".
He paid tribute to the "meticulous work" of his officers and the "excellent co-operation" of staff at Stepping Hill.